Paul J. Krupin is a former scientist and "once-upon-a-time" attorney, turned author, publicist, and inventor.

He retired after 28 years of diverse professional government and industry experience in a variety of technology and project management disciplines at complex industrial, nuclear, waste management facilities. He has been employed with the State of Oregon, U.S. Department of Interior, U.S. Department of Agriculture, U.S. Department of Energy, state, county and local agencies, professional organizations, and private industry. He was an emergency medical technician (EMT) and a County Civil Defense Director in Idaho.

Born in New York City, he was raised in Franklin Square on Long Island. He received a Bachelor's Degree from the University of Colorado in Boulder, Colorado, a Master's Degree from Oregon State University in Corvallis, Oregon, and a Juris Doctor with a special certificate in Dispute Resolution from Willamette University in Salem, Oregon.

In 1992, after vowing to never step into a courtroom again, Paul devoted his newly found spare time to becoming an author, publisher, Internet innovator, professional problem solver, publicist and inventor. In the early and mid 90's he came up with numerous highly innovative Internet systems and solutions. He loves to identify and develop what he calls "technological force multipliers", which in his own words are, "success pathways en masse, made easy to use with technology."

His pre-Internet publications included the Toll Free Environmental Directory which taught people how to search for environmental jobs and information long distance for free using toll-free numbers. He also wrote several fishing, hunting and archery books. He created several very popular highly specialized databases for government contractors including the National 8 A Minority and Economically Disadvantaged Company Directory & Databases series, Fed-Pro: The Federal Procurement Database, and DOD-Pro: The Department of Defense Procurement Database.

He discovered the Internet in 1994 and created a widely known media e-mail database called The US All Media E-Mail Directory. In 1996, he co-created, with Don Short of One World Telecommunications, IMEDIAFAX-The Internet to Media Fax Service a custom programmed online service that allowed people to create their own custom targeted media lists and transmit news releases to them via fax and e-mail. His clients include authors from every genre including Jack Canfield and Mark Victor Hansen of Chicken Soup for the Soul, and bestselling authors like Dan Brown, Dave Ramsey, Andy Andrews, Brian Tracy Joe Vitale, Zig Ziglar, to hundreds of other authors and publishing companies to publicizing independent films, mobile apps, Internet technology and industry events to hard news journalists to syndicated columnists to electronic newsletters and more. His methods and services have helped hundreds of authors reach out to millions of people again and again. He wrote the book Trash Proof News Releases (2000 and 2010) and he continues to do targeted publicity for people in need at https://www.DirectContactPR.com 

Another of his online tools was EMailtotheMax.com, a free online tutorial which taught business people how to avoid email liability and improve their Internet and email skills, productivity and capability using what he calls "Business Quality Email." For creating this helpful free service, he was featured on CNN Financial.

The Magic Search Words series (Health, Jobs, & Scholarships) was published in 2003 to help people make the best use of search engines.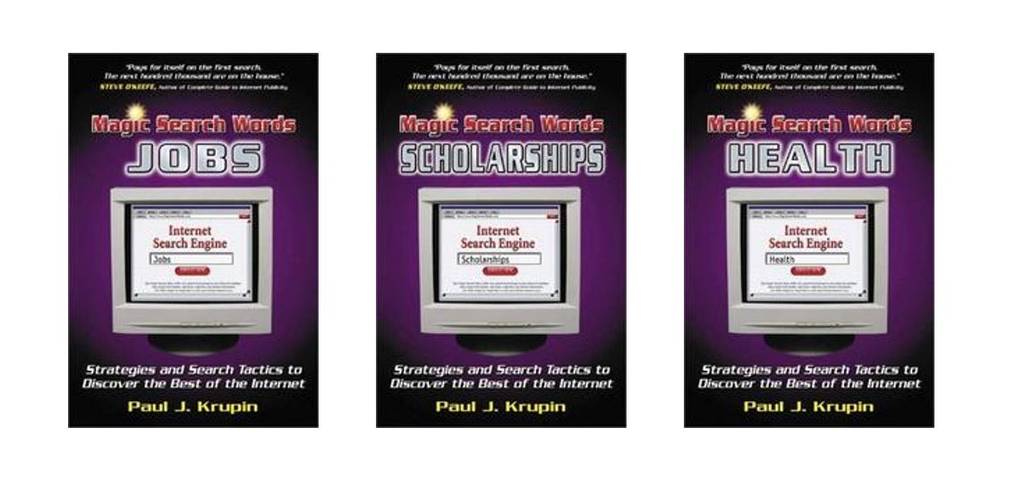 Free pdf file download here Jobs Scholarships Health
One of the techniques he popularized was "the minus dot com trick" which allows people to eliminate the dot com's from their searches with just one click.
In 2004, he and Don Short received a patent for a "Method and System for Creating Improved Search Queries." (U.S. Patent No. US 20030172061 A1)

Ten years later, he evolved those concepts to create the Search Word Pro capabilities. He published over 150 of these ebooks in five series. The most common feedback from people was that they wanted to be able to use the technology themselves. So Krupin went back to Short and they decided to try to create something new that allowed people to do whatever they wanted and reach the best sources of knowledge available.

Presari is an evolution of that technology. Between 2014 and 2016, they focused on designing a new process they developed to take advantage of the advances in the speed, storage and innovations in telecommunications technology. They integrated the topics from all 150 + Search Word Pro ebooks into one search platform that searches all these topics and a whole lot more.

Programming began in earnest in February 2016. Slowly and steadily, over a 12-month period of custom coding and experimentation, the Presari site evolved and took shape.

Krupin worked with Don Short to create a single integrated search platform that allowed people to quickly identify, select and then receive results directly from the best, most authoritative sources. The sites selected for inclusion are those which have narrowly focused topical expertise with highly curated content created by authors and expert contributors. They also then optimized the site for smart phones and can be used on most any portable device with an Internet connection.

He lives near on a hill overlooking the confluence of the Snake River and the Columbia River in Kennewick, Washington. He fishes on the Columbia River year, round, is a member of the Intermountain Alpine Club (IMAC), and writes Outdoor, Fitness, and Lifestyle columns for the Tri-City Herald. You can see his articles here. He is presently writing The Digital Hiker and creating a new series of searchable Digital Hiker Travel ebooks that cover the National Parks.