I conducted a survey of the members of the Aspiring Authors United Facebook Group seeking to tally the types of subgenres in the membership of the group. I received over 250 responses in 48 hours and then sorted the list to identify the top genres.
I then used Presari to create a Digital Guide to the Book Reviewers to match the subgenres of the members who responded.
The list below searches the top 35 genres in each category, including 4 non-fiction genres and 29 fiction genres listed below.
This list covers:
Book Reviewers
Amazon Book Reviewers
Goodreads Book Reviewers
Bookbub Book Reviewers
Here's how to use them:
No typing needed. Just click or touch and Presari opens. Then click or touch an icon and your results open.
You can search the general search engines, social media and news search engines. Once you study the top results. you can get the most current results by time period by using the time tools at each site.
Once you identify a reviewer, copy their name and then search and find their contact information. Then send them a pitch using the format of the technology they prefer.
If you click on Facebook, look at the top posts, the latest posts, then click on Groups and find the tribes!
This is a sample of just one of the dozens of book influencers that you will find in the new Presari Book People Series.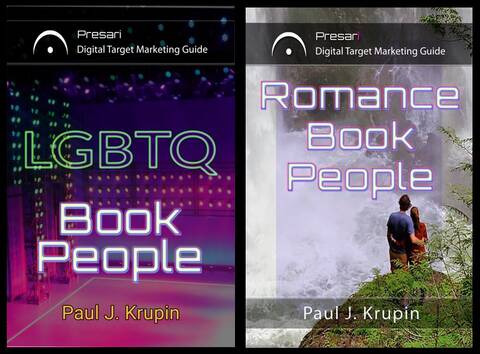 Each Presari Book People Guide is designed to speed up your target marketing so you can easily find and pitch book influencers of all types fast in real time. They include book influencers media, publishing industry people, and include experts, associations, organizations, and groups. They are organized nationally, the top 50 cities, the fifty states, and by social meeia platform.
Each book is genre specific, so if you need one created for your particular work or business, please let me know your genre (or type of industry.
Have fun!
Book Reviewers

Nonfiction Book Reviewers

Nonfiction Book Reviewers
Self-help Book Reviewers
Spirituality Book Reviewers
Motivational Book Reviewers

Fiction Book Reviewers

Fiction Book Reviewers
Sci-fi Book Reviewers
Fantasy Book Reviewers
Historical Fiction Book Reviewers
Romance Book Reviewers
Children's Book Reviewers
YA Book Reviewers
Poetry Book Reviewers
Horror Book Reviewers
Memoir Book Reviewers
Paranormal Book Reviewers
Contemporary Fiction Book Reviewers
Mystery Book Reviewers
Short Stories Book Reviewers
Urban Book Reviewers
Women's Fiction Book Reviewers
Action Adventure Book Reviewers
Adventure Fiction Book Reviewers
Christian Book Reviewers
Crime Fiction Book Reviewers
Drama Book Reviewers
Epic Fantasy Book Reviewers
Literary Fiction Book Reviewers
Action Thriller Book Reviewers
Coming of Age Book Reviewers
Dystopian Book Reviewers
Erotic Book Reviewers
Military History Book Reviewers
Political Fiction Book Reviewers

Amazon Amazon Book Reviewers

Nonfiction Amazon Book Reviewers

Nonfiction Amazon Book Reviewers
Self-help Amazon Book Reviewers
Spirituality Amazon Book Reviewers
Motivational Amazon Book Reviewers

Fiction Amazon Book Reviewers

Fiction Amazon Book Reviewers
Sci-fi Amazon Book Reviewers
Fantasy Amazon Book Reviewers
Historical Fiction Amazon Book Reviewers
Romance Amazon Book Reviewers
Children's Amazon Book Reviewers
YA Amazon Book Reviewers
Poetry Amazon Book Reviewers
Horror Amazon Book Reviewers
Memoir Amazon Book Reviewers
Paranormal Amazon Book Reviewers
Contemporary Fiction Amazon Book Reviewers
Mystery Amazon Book Reviewers
Short Stories Amazon Book Reviewers
Urban Amazon Book Reviewers
Women's Fiction Amazon Book Reviewers
Action Adventure Amazon Book Reviewers
Adventure Fiction Amazon Book Reviewers
Christian Amazon Book Reviewers
Crime Fiction Amazon Book Reviewers
Drama Amazon Book Reviewers
Epic Fantasy Amazon Book Reviewers
Literary Fiction Amazon Book Reviewers
Action Thriller Amazon Book Reviewers
Coming of Age Amazon Book Reviewers
Dystopian Amazon Book Reviewers
Erotic Amazon Book Reviewers
Military History Amazon Book Reviewers
Political Fiction Amazon Book Reviewers

Goodreads Book Reviewers

Nonfiction Goodreads Book Reviewers

Nonfiction Goodreads Book Reviewers
Self-help Goodreads Book Reviewers
Spirituality Goodreads Book Reviewers
Motivational Goodreads Book Reviewers

Fiction Goodreads Book Reviewers
Fiction Goodreads Book Reviewers
Sci-fi Goodreads Book Reviewers
Fantasy Goodreads Book Reviewers
Historical Fiction Goodreads Book Reviewers
Romance Goodreads Book Reviewers
Children's Goodreads Book Reviewers
YA Goodreads Book Reviewers
Poetry Goodreads Book Reviewers
Horror Goodreads Book Reviewers
Memoir Goodreads Book Reviewers
Paranormal Goodreads Book Reviewers
Contemporary Fiction Goodreads Book Reviewers
Mystery Goodreads Book Reviewers
Short Stories Goodreads Book Reviewers
Urban Goodreads Book Reviewers
Women's Fiction Goodreads Book Reviewers
Action Adventure Goodreads Book Reviewers
Adventure Fiction Goodreads Book Reviewers
Christian Goodreads Book Reviewers
Crime Fiction Goodreads Book Reviewers
Drama Goodreads Book Reviewers
Epic Fantasy Goodreads Book Reviewers
Literary Fiction Goodreads Book Reviewers
Action Thriller Goodreads Book Reviewers
Coming of Age Goodreads Book Reviewers
Dystopian Goodreads Book Reviewers
Erotic Goodreads Book Reviewers
Military History Goodreads Book Reviewers
Political Fiction Goodreads Book Reviewers

Bookbub Book Reviewers

Nonfiction Bookbub Book Reviewers

Nonfiction Bookbub Book Reviewers
Self-help Bookbub Book Reviewers
Spirituality Bookbub Book Reviewers
Motivational Bookbub Book Reviewers

Fiction Bookbub Book Reviewers

Fiction Bookbub Book Reviewers
Sci-fi Bookbub Book Reviewers
Fantasy Bookbub Book Reviewers
Historical Fiction Bookbub Book Reviewers
Romance Bookbub Book Reviewers
Children's Bookbub Book Reviewers
YA Bookbub Book Reviewers
Poetry Bookbub Book Reviewers
Horror Bookbub Book Reviewers
Memoir Bookbub Book Reviewers
Paranormal Bookbub Book Reviewers
Contemporary Fiction Bookbub Book Reviewers
Mystery Bookbub Book Reviewers
Short Stories Bookbub Book Reviewers
Urban Bookbub Book Reviewers
Women's Fiction Bookbub Book Reviewers
Action Adventure Bookbub Book Reviewers
Adventure Fiction Bookbub Book Reviewers
Christian Bookbub Book Reviewers
Crime Fiction Bookbub Book Reviewers
Drama Bookbub Book Reviewers
Epic Fantasy Bookbub Book Reviewers
Literary Fiction Bookbub Book Reviewers
Action Thriller Bookbub Book Reviewers
Coming of Age Bookbub Book Reviewers
Dystopian Bookbub Book Reviewers
Erotic Bookbub Book Reviewers
Military History Bookbub Book Reviewers
Political Fiction Bookbub Book Reviewers