Here is the new Presari Guide to the Issues 2021. This page can be freely used. Share the link to this page freely.
This tool is designed to save you time and help you research the issues and recognize media bias based on current classifications from noted authorities.
You can select and research a topic and evaluate the manner in which it is being reported based on the classification for the source you are using.
There are 14 topics each with a list of more detailed issues.
No typing is needed. Click or touch a topic. A Presari search page opens up. The keyword is pre-loaded. Then click or touch a search engine icon and the results open for you. You can search:
• General Search Engines
• Social Media
• News Search Engines
• Legal Search Engines
• Political Media Search Engines organized into groups based on validated current classifications by the Media Fact Check and Media Bias.
Left (Liberal) -- Lean Left -- Center -- Lean Right -- Right (Conservative)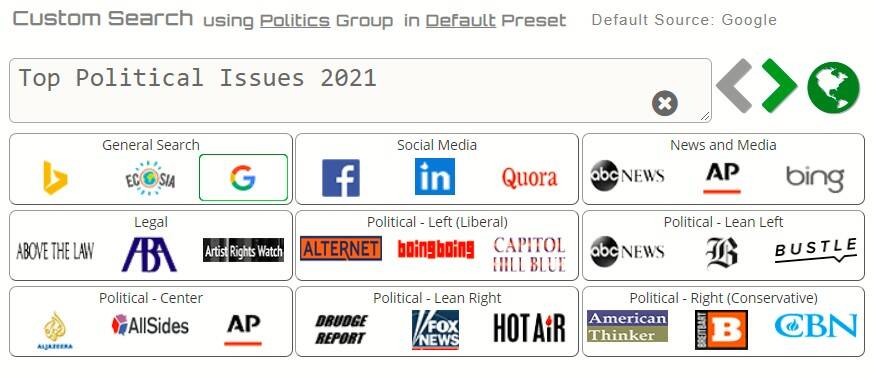 The results are always fresh. You can then always use the time tools and other tools to sort and filter the information.
The list of issues is updated periodically and requests and ideas for additional categories and topics are welcomed.
Paul Krupin, BA MS JD
509-531-8390 cell 509-582-5174 landline Paul@Presari.com
Creator of Presari www.presari.com
Top Political Issues
Top Political Policy Issues Climate Change Policy Coronavirus Trump Response Policy Corruption Policy Cronyism Policy Economy Policy Environment Policy Federal Budget Policy Federal Deficit Policy Global Warming Policy Government Spending Policy Gun Control Policy Health Care Policy Immigration Policy Jobs & Employment Policy National Security Policy
Social Policy Issues
Top Social Policy Issues Abortion Policy Confederate Flag Policy Death Penalty Policy First Amendment Policy Gay Marriage Policy Gender Identity Policy Gender Workplace Diversity Policy Government Mandates Policy Homelessness Policy Hunger Policy LGBT Adoption Policy Marriage Equality Policy Planned Parenthood Funding Policy Poverty Policy Racial Conflicts Policy Racial Diversity Policy Rape Policy Religious Freedom Policy Safe Spaces Policy Separation of Church & State Policy Women in Combat Policy Women's Choice Policy Women's Rights Policy
Immigration Policy Issues
Top Immigration Policy Issues Border Security Policy Border Wall Policy DACA Policy Dreamers Act Policy Deporting Criminal Immigrants Policy Immigrant Detention Camps Policy Illegal Immigration Detainment Policy Immigrant Children Policy Immigrant Laborers Policy Immigration Policy Immigration Assimilation Policy Immigration Ban Policy Immigration Healthcare Policy Migrant Camps Policy Muslim Immigrants Policy Sanctuary Cities Policy
Domestic Policy Issues
Top Domestic Policy Issues Affirmative Action Policy Armed Teachers Policy Assault Weapons Policy Domestic Surveillance Policy Drug Policy Gerrymandering Policy Gun Control Policy Gun Liability Policy Muslim Surveillance Policy Net Neutrality Policy No-Fly Gun Control List Policy Social Media Regulation Policy Social Security Policy Term Limits Policy Whistleblower Protection Policy
Healthcare Policy Issues
Top Health Care Policy Issues Abortion Policy Affordable Care Act Policy Coronavirus Update Policy Coronavirus Vaccination Plans Policy Drug Price Regulation Policy Drug Prices Policy Marijuana Policy Medicaid Policy Medicare Policy Mental Health Policy Pre-Existing Conditions Policy Single-Payer Healthcare Policy VA Privatization Policy
Economic Policy Issues
Top Economic Policy Issues Bitcoin Policy Capital Gains Tax Policy China Tariffs Policy Corporate Taxes Policy Domestic Jobs Policy Economic Stimulus Policy Equal Pay Policy Estate Taxes Policy Farm Subsidies Policy Federal Deficits Policy Federal Reserve Policy Funding For The Arts Policy Government Pensions Policy Government Spending Policy Labor Unions Policy Mal-distribution Of Wealth Policy Minimum Wage Policy NAFTA Policy Offshore Banking Policy Online Sales Tax Policy Overtime Pay Policy Paid Sick Leave Policy Pension Reform Policy Property Taxes Policy Tariffs Policy Tax Reform Policy Taxes Policy Trans-Pacific Partnership Policy Welfare Benefits Policy Welfare Drug Testing Policy
Electoral Policy Issues
Top Electoral Policy Issues Campaign Finance Policy Campaign Finance Reform Policy Candidate Transparency Policy Criminal Politicians Policy Cronyism Policy Electoral College Policy Federal Judge Appointments Policy Foreign Lobbying Policy Gerrymandering Policy Lobbyists Policy Mail in Voting Policy Nepotism Policy Supreme Court Appointments Policy Voter Fraud Policy Voter Rights Policy Voter Suppression Minimum Voting Age Policy Manipulation and Incompetence In Government Policy Russian Interference in US Elections Policy
Environmental Health Safety Policy Issues
Top Environmental Health Safety Policy Issues Alternative Energy Policy Climate Change Policy Consumer Protections Policy Dakota Access Pipeline Policy Disaster Preparedness Policy Emergency Response Policy Environmental Protection Policy Fracking Policy Global Warming Policy Health and Technology Policy Oil Drilling Policy Paris Agreement Policy Plastic Product Ban Policy Renewable Energy Policy Research Environment Policy Sea Level Rise Policy Sustainable Environment Policy
Foreign Affairs Policy
Top Foreign Affairs Policy Issues Africa Policy Australia Policy Brazil Policy Canada Policy China Policy Cuba Policy Egypt Policy European Union Policy Great Britain Policy Indonesia Policy Iran Policy Ireland Policy Israel Policy Jordan Policy Korea Policy Mexico Policy Russia Policy Syria Policy Ukraine Policy Venezuela Policy Yemen Policy
Foreign Policy Issues
Top Foreign Policy Issues Brexit Policy Drone Strikes Policy F-35 Funding Policy Foreign Aid Policy Foreign Elections Policy Military Spending Policy NAFTA Policy NATO Policy NSA Surveillance Policy Terrorism Policy Torture Policy United Nations Policy USMCA Policy
Criminal Policy Issues
Top Criminal Policy Issues Black Lives Matter Policy Criminal Voting Rights Policy Death Penalty Policy Defunding the Police Policy Drug Trafficking Penalties Policy Police Use of Force Policy Policy Body Cameras Policy Prison Overcrowding Policy Solitary Confinement for Juveniles Policy
Science Policy Issues
Top Science Policy Issues Genetically Modified Foods Policy Mandatory Vaccinations Policy Oil & Gas Policy Nuclear Energy Policy Pipelines Policy Space Exploration Policy Technology Innovation Policy
Education Policy Issues
Top Education Policy Issues Charter Schools Policy Common Core Policy Education Funding Policy Public Education Policy Religion in Schools Policy Student Loans Policy Teacher Pay Policy
National Security Policy Issues
Top National Security Policy Issues Domestic Spying Policy Domestic Terrorism Policy Foreign Assassination Policy Military Budget Approval Policy National Security Policy Pre-Emptive War Policy Protests Policy Putin Bounty on US Soldiers Policy National Security Social Media
Transportation Policy Issues
Top Transportation Policy Issues Airports Policy Bridges Policy Energy Grid Policy Infrastructure Development Policy Infrastructure Maintenance Policy Mass Transit Policy Public Transportation Policy Roads Policy Schools Policy
Technology Policy Issues
Top Technology Policy Issues Big Data in Politics Policy Defending Democracy Politics Policy Ethics for Artificial Intelligence Policy Free Speech on Social Media Policy Internet Inequality Policy Jobs in Technology Policy Journalism and Politics Policy Nanotechnology Policy National Sovereignty Policy Privacy Policy Artificial Intelligence Policy Social Media Regulation Policy Sustainability Policy Technology Policy Cold War Policy