These ebooks are available for free download. They utilize Presari - a time-saving online research tool I created to help get the most out of your time online. In these ebooks, the keywords are preloaded. No typing is needed. Just click or touch on the topic that interests you.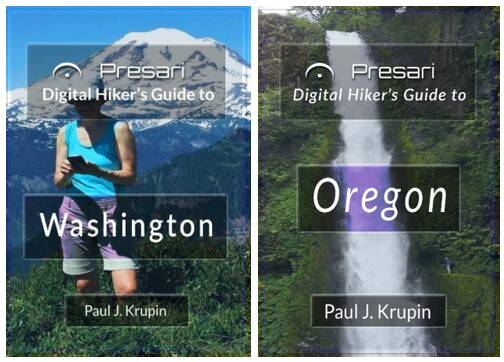 Presari Digital Hiker's Guide to Oregon
Presari Digital Hiker's Guide to Washington
You can either download the pdf file or use the online viewer.
The books for each state are organized by region. Within each region you can access
Statewide Perspective
National Parks, National Monuments, National Forests
National Wilderness Areas, National Recreation Areas, National Wildlife Refuges, National Wild & Scenic Rivers
National Scenic Highways, Rivers, and Trails,
State Parks, State Forests, State Wildlife Areas, State Recreation Areas
Parks and Hiking Trails near the Major Cities & by County
Hiking Trails near Mountain Passes and Mountain Peaks
Snowshoeing, Cross-Country Skiing and Sno-Parks
Hiking Clubs & Organizations
ADA Accessible Parks, Hiking Trails, Camping and Fishing
CalTopo Maps
Adjacent destinations in nearby areas to each state are also included.
Bottom line: Start at the table of contents, then click or touch region or a destination, then click or touch a search engine icon. Voila.
Comments greatly appreciated.