Job Search Networking During the Coronavirus Pandemic
The pandemic is forcing people to re-evaluate their jobs and employment situations everywhere.
The two most important actions to take are to:
focus on learning how to make more and better use of search engines and technology; and
place more time and effort into using the most effective online job search tactics and sources of information.
Some search engines are better than others for job search networking
Presari is a search tool that operates like a TV remote control for search engines. It lets you select where you get your information from. You don't need to type – just click on the topic. It can be used to help search better for work for job opportunities in a variety of ways.
Like any search engine, you get the best results when you carefully select purpose-driven keywords and then use the tools to improve and curate the results you get, so you can then take appropriate action.
Here are two Presari search results that focus on the tactics of job search networking during the coronavirus:
Job search networking during the coronavirus
Job search during the coronavirus pandemic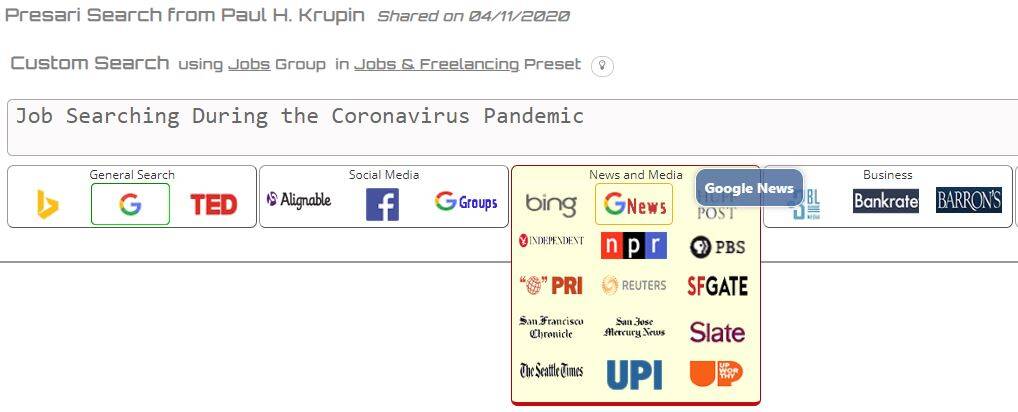 Study the results! Learn what the experts and journalists are saying. Knowledge improves your understanding and creates opportunity.
The search results allow you to see a lot of excellent articles and features on the situation nationally, in various regions and locations and also contains access to the latest guidance.
Look at the results from a variety of perspectives and sources. Presari lets you select the results from the regular search engines, news media, social media and from specialized search engines as well.
You can not only get the best ranked information, but then you can use the tools at any search engine to get the most current information by date or by the type of information.
You won't get access to this information in physical books. You need to research online.
And realize this: when you search the results are always current and updated.
Presari helps people make better use of a variety of technologies. You can even use this on your smart phone and do the research as long as long as you have Internet access.
Use the Job Search Engines
Presari also has a specialized job search dashboard – it lets you enter the title of a position and then you can search over thirty job search and freelancing search engines all in one place. The list of sites is always updated and can be seen here: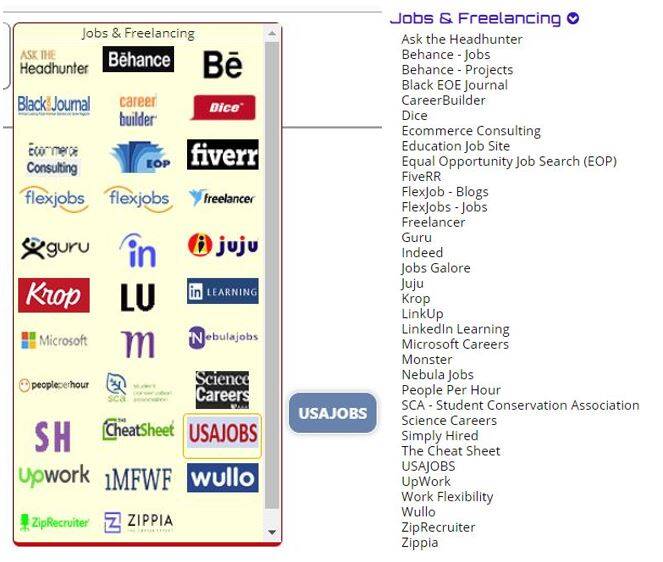 Here's an example on the job title for social media jobs The results can be tailored again using the tools at each search engine to zero in on locations and companies that offer remote work from anywhere.
The online search process steps
Create a list of the titles which describe the work you seek.
Then enter the name of one of them and start searching. If you are willing to mnove, search the national results.
If you need to stay local or in a specific location, use the tools to zero in on that location.
Then apply to the ones that make sense to you.
Then repeat the process with the next job title on your list.
Use the Maps Search Engines
Another local search technque is to use the map search engines. This allows you to enter the topic on type of business and see the locations of the businesses that offer that product or service.
Then you do the Two-Step:
First, you use the maps results to visit the office and collect cards
You then go home and prepare personalized packages
Then, you go back and do your best to hand-deliver your personal pitch packages instead of mailing them.
Here is a link to a job strategy post that is dedicated to how to make maximum use of this technique.
https://presari.com/more/strategies.html
Knowledge is power and critical business intelligence is what helps people make the best informed decisions.
Feel free to ask me questions anytime.
Paul Krupin, BA MS JD
509-531-8390 cell 509-582-5174 landline Paul@Presari.com
Creator of Presari www.presari.com