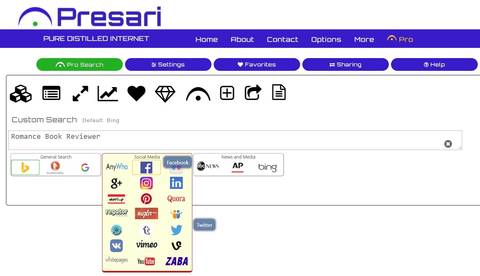 Background to this Question
One of the members of the Writers and Authors Promotion Group on Facebook asked:
Does anyone else have trouble getting views on their author pages? I barely even get interaction from friends and family.
I offered two comments & recommendations:
Identify the top authors in your genre or with books like yours. Go to their social media sites. Study and understand how they create their posts. Design yours to be like their's and even better. In particular, focus on the hot buttons that make their pages jump. Re-design and build yours with every new improvement. Pay attention to what works, by tracking the likes, shares, and buys. Do more of it.
Which would you rather do: Post snippets where only other authors and writers read them, or post trails of intellectual candy in front of hungry readers? You have tools available that can be used to help you target readers and you can use social media to tantalize them. Learn how to target your readers. Go where they are.
This prompted the following question in response:
I definitely need to figure this out. I am so new to this whole thing, and it's very overwhelming.... Which tools are out there?
My Response
The search engines of course.
Every major web site and expert and organization and social media has one. You mine them for knowledge, tactics, and connections.
I'm a long time PR type - scientist and former attorney. I did a lot of publicity with authors and experts, so here's my disclosure: I created Presari - a web-based search tool that lets you flip search engines instead of TV channels. It is a tool I created to help me and my clients do the online research they needed to find answers and contacts for book publicity and marketing. It opened to the public one month ago. You can use it for free. Here's the free (no costs to do this) search tips version to answer your questions. A Presari membership allows you to save your favorite searches and tailor your own search dashboard and keywords to save you time.
Influencer Search
Here's an example. Enter the words "Romance book reviewer" (or whatever your genre) at www.Presari.com
First, look at Google and Bing - study the text articles, images, and videos. Just realize the fist layer of content on the prime search engines is advertising, followed by SEO manipulated results, followed then by a competition for placement. What you need may not be readily found without using more sophisticated search words.
Next, send your search go to the social media. Focus on Facebook first. do the search and inside Facebook click from All to Posts, People, Photos, Videos, Pages, Places, Groups, etc. Look for connections - places to pitch, to get involved, and be seen.
Now back to Presari and go to Twitter. Click on Top, Latest, and People. Each time, look for a match, especially with people, reviewers, and organizations with large targeted audiences. Now go back to Presari. You can also click on other social media. Google Plus, Pinterest, Instagram, and LinkedIn are all useful places to mine for connections.
Now go back to Presari and click on news media. Click on Google News and Bing News, or NPR, or the Washington Post, or any number of others.
Study the best articles and interviews to learn how they like it. Identify who is getting media coverage and where. Drill down to get the journalist & reviewer names and contacts for pitching later.
Influencer + Location Search
Now layer your search strategy by adding a location word to your base keyword like this:
"romance book reviewer Los Angeles"
Now repeat your searches. Lather. Rinse. Repeat. That is the process.
Then rotate to a new location (e.g., San Diego) and repeat your searches. Do this for your local cities and a for a custom targeted list of cities, counties, and states that you can readily service.
You do this because GPS enabled technology is delivering localized results. You need to use the geo-location terms to search and to be found.
Influencer + Platform Search
You can also use your base search word with the name of a social media platform like this:
Romance book reviewer Facebook.
Mine the results and isolate the connections. Then pitch them.
Now rotate to new platforms. Now go back to the beginning and create a list of your five top influencer or target audience or keywords
Go from reviewer to reviewers, to blog, blogs, blogger, reporter, editor, producer, host, anchor, to book clubs, to dating sites, to whatever identifies and captures a nexus containing large numbers of people who are perfect for your book.
Implement a Systematic Search-Find-Match & Deploy Strategy Daily
If you do the above, you can create a systematic search strategy that can serve you well for months.
Pitch five or more of the best people per day.
Use search engines to get to the strategies from the best experts to learn how to create posts that really produce.
Create a battery of posts – a toolbox you can use, tailor, and modify on demand quickly, that have the following elements:
Headline
Galvanizing, helpful stimulating entertaining content
Photos
A Link to your site.
Study the ecosystems of the places you want to be seen before jumping in. Match the hatch. Be the best you can be.
Join in. Jump in.
BTW, I am not the only person who is developing techniques like this. There are many other people who are very active in discovering and developing techniques especially for using social media in real time.
Here's an example: Enter the words "Gary Vaynerchuk 18 cent strategy" at www.Presari.com
Gary's technique boils down to this:
Search on your keywords. (If you use Presari you can go straight to FB and Twitter and other social media) and pay attention to the trending hashtags, especially in your fields of expertise or interests.
Post and reply with meaningful, helpful, encouraging motivational content with dazzling pictures and the links and use the right hashtags.
Do this ten times a day and refine your content until you get:
Four to six followers per post = 40 to 60 new followers per day.
30 days = 1200 to 1800
12 months = 14,400 to 21,600
And if even one of your posts go viral as you really learn what it takes to turn people on, ….
Just realize that people are posting so much every day the results change from minute to minute. learn how to use the search engines.
Mine the newest and leading connections and influencers on a regular basis.
Elearning is the future. Online outreach is the best technique for now.
BTW - if you want a free ebook which expands this summary level strategy in an illustrated ebook PDF, just send me a request by email.
You can reach me at Paul@Presari.com