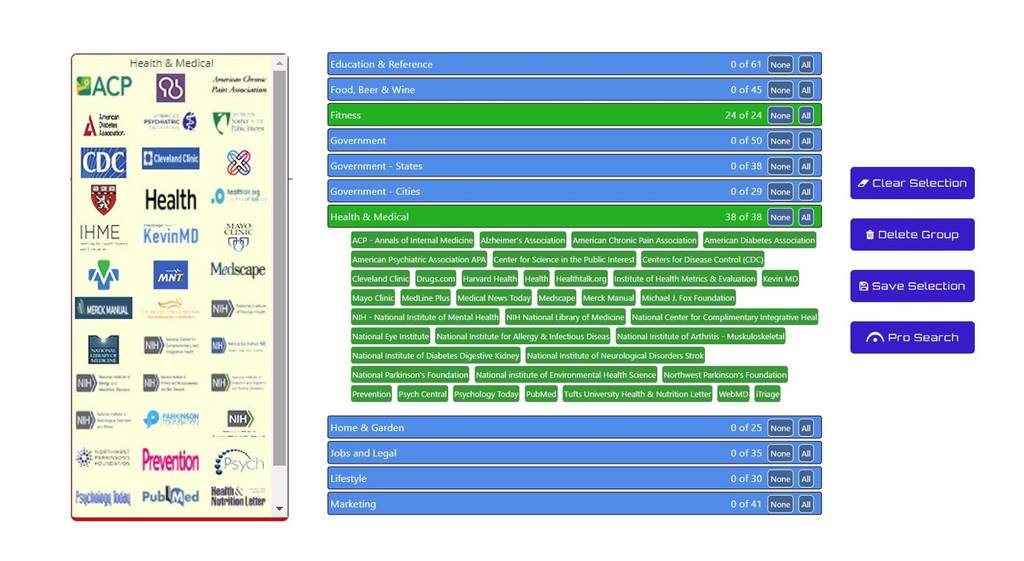 Presari contains 39 medical search engines which you can turn on or off as needed in seconds.
Click on Settings. Open the Source Group folder, select the source group or create a new one. Then scroll down to the Health folder, click on it, then click all or none, or just the ones you want - green is on and blue is off.
Then save the selection. They will be ready for you to use when you return to your Pro-Search page.
ACP - Annals of Internal Medicine
Alzheimer's Association
American Chronic Pain Association
American Diabetes Association
American Psychiatric Association APA
Center for Science in the Public Interest
Centers for Disease Control (CDC)
Cleveland Clinic
Drugs.com
Harvard Health
Health
Healthtalk.org
Institute of Health Metrics & Evaluation
ITriage
Kevin MD
Mayo Clinic
MedLine Plus
Medical News Today
Medscape
Merck Manual
Michael J. Fox Foundation
NIH - National Institute of Mental Health
NIH National Library of Medicine
National Center for Complimentary Integrative Heal
National Eye Institute
National Institute for Allergy & Infectious Disease
National Institute of Arthritis – Muskulo-skeletal
National Institute of Diabetes Digestive Kidney
National Institute of Neurological Disorders Stroke
National Parkinson's Foundation
National institute of Environmental Health Science
Northwest Parkinson's Foundation
Prevention
Psych Central
Psychology Today
PubMed
Spine Health
Tufts University Health & Nutrition Letter
WebMD